Continuous and Batch Industrial Ovens
Our continuous and batch ovens at Quality Finishing Systems offer precise temperature control and energy efficiency without breaking the bank. With over 55 standard sizes, you can find a model that fits your needs and budget.
Our continuous oven provides continuous-flow operation for maximum material throughput and continuous uniform heating. All units feature customizable thermal management for each application to ensure the highest level of temperature control.
And with our custom configurations available, you can tailor an oven specifically to meet the specific requirements of your project. Whether you need continuous or batch, QFS has the right industrial oven to fit your needs.
Continuous Ovens and Batch Ovens
At Quality Finishing Systems, our ovens are designed to tackle any finishing and curing application. Whether you're looking for an industrial continuous oven to streamline your production process or a batch oven that offers efficient yet precise heating capabilities, we have a range of ovens that will suit your needs.
Our ovens are manufactured to stringent safety and quality standards, ensuring optimal performance when delivering reliable results. With unbeatable customer service and industry-leading products, QFS is an invaluable partner in helping you get the job done.
Providing our customers with the following high-quality continuous and batch ovens:
Continuous ovens

Standard

batch ovens

Custom batch ovens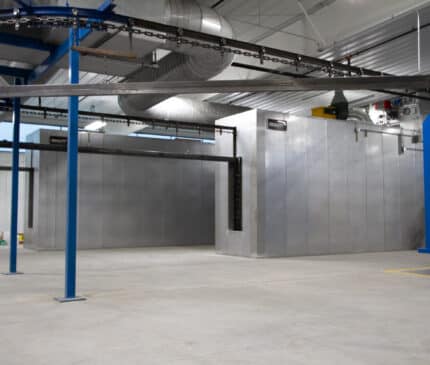 Continuous Ovens
QFS continuous ovens are ideal for high-volume industrial production lines. Designed to handle the constant throughput of parts, these powerful ovens are forged fixtures capable of continuous motion without any manual adjustments, making them more efficient than traditional batch ovens.
Featuring precise temperature control and accessible maintenance features, continuous ovens from QFS provide benefits such as:
Improved process consistency
Higher production efficiencies
A wide range of baked-on finishes
Continuous ovens can drastically reduce scrap costs due to the consistency they provide for repeatable processes. Plus, continuous ovens require fewer manual inputs—meaning fewer labor costs—making them even more attractive.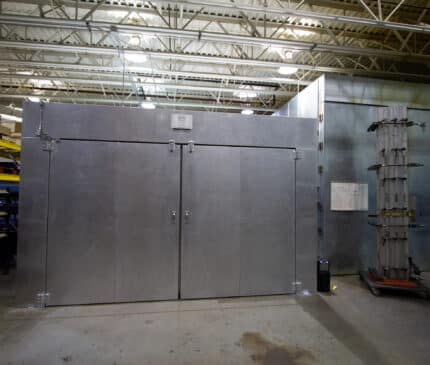 Standard Batch Ovens
Standard batch ovens from QFS offer a wealth of benefits for businesses that require efficient and reliable thermal processing and are designed to provide maximum cost efficiency with minimal maintenance, excellent repeatability, and consistent results.
Standard batch ovens are ideal for applications requiring accurate temperature profiles for multiple runs to ensure high-quality outputs with excellent repeatability. With accurately controlled heating profiles and precise repeatability, standard batch ovens by QFS help businesses achieve efficiencies in their processes while providing the highest-quality results possible.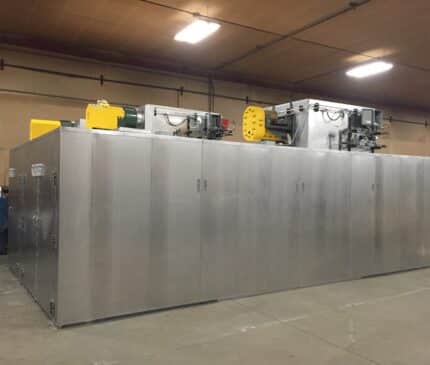 Custom Batch Ovens
Our custom batch ovens are designed with advanced computer controls to ensure constant process temperatures and superior temperature uniformity.
These ovens feature a low-velocity airflow pattern, resulting in reduced energy consumption and higher yields. Not only do custom batch oven from QFS offers efficient temp control, but they also reduce air change frequency, enhancing product quality and extending equipment life.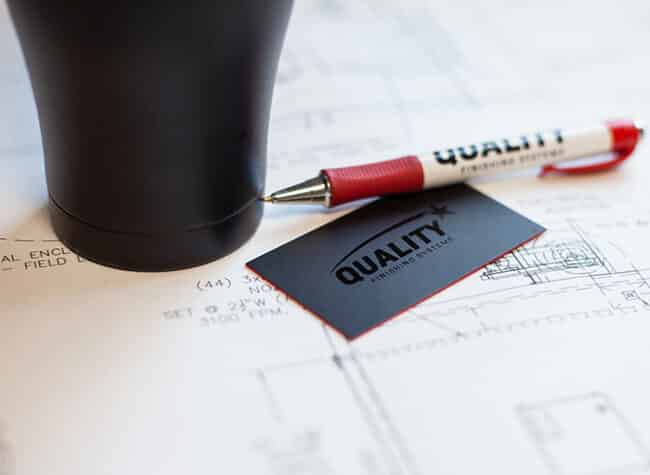 We have the perfect oven for you
With various oven types and sizes available in custom and standard models, Quality Finishing Systems, one of the industry's leading industrial batch oven manufacturers, has different industrial ovens for every application. Contact us today to find the right oven for your needs. Our knowledgeable team will help you find the perfect fit for your project.